Recently, in CABISUAR S.A. we have built a PREFABRICATED MODULE FOR VOLVO. Specifically, one of the firm's dealers needed to expand its facilities and, by assembling three modules, we have provided them with the space they needed.
The result, a pavilion of coquettish proportions located on a metal structure within the dealer's premises. In this way, the space has been optimized by providing an extra surface for exhibition, sale and office to the firm.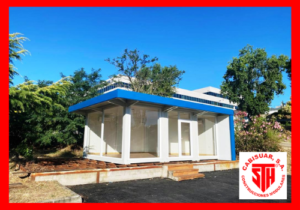 The structure has a large exhibition area with glass panels on 50% of its vertical surface. Attached to this, another more private room, intended for an office. Access to the pavilion is through a glass door with a security lock.
All exterior carpentry is white aluminum. The floor, synthetic. Two multifunction Splits guarantee comfort inside the modules. In addition, a personalized perimeter canopy has been incorporated that runs through the entire structure and mitigates the reflections of the sun's rays on the glass surface.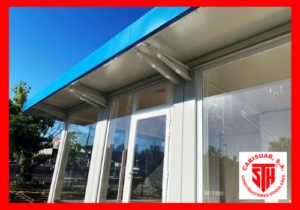 MODULAR CONSTRUCTION is an excellent formula to optimize your spaces. Through personalized solutions adapted to the needs of our clients, we achieve a modular architecture with costs and work completion times that are much lower than traditional architecture.
In the same way, these modular structures can be located without any problem on almost any location, since the PERMITS AND LICENSES for their construction are much faster and less restrictive than for other constructions.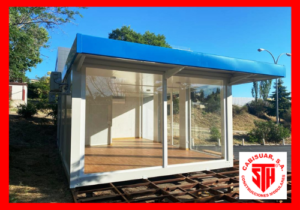 If you are looking to create EXHIBITION SPACES, INDUSTRY, or MODULAR BUSINESSES in CONSTRUCCIONES MODULARES CABISUAR we have the solution. We have extensive experience and an INTEGRAL SYSTEM of design, manufacturing, logistics, transport and collection that makes us leaders in the modular construction sector.
How can we help you?