Construcciones Modulares Cabisuar S.A.
Health Premium, Prefabricated modules for healthcare
The COVID-19 HEALTH REGULATION has forced many companies and services to modify their facilities. In Management CABISUAR hemos creado nuestra línea de HEALTH PREMIUM PREFABRICATED MODULES to adapt our products to the needs of health institutions, field hospitals or primary care centers.
The HEALTH PREMIUM MODULES are perfectly adapted to the needs that have arisen over the last year in health institutions (public and private). These mobile, stackable and customizable structures are perfectly adapted to the creation NUEVOS ESPACIOS when the needs of health services are overwhelmed by the massive arrival of patients and the need to create DOUBLE ENTRY AND ASSISTANCE CIRCUITS in health centers.
What are DOUBLE HEALTH CARE CIRCUITS?
During the first wave of COVID 19 (February-May 2020), health centers and nursing homes were the focus of the spread of a virus that is very easily transmitted through the air. Spain concentrated the highest rate of infected health workers, due to the lack of PPE and the lack of implementation of EPIS y la falta de implantación de PROTOCOLS that would prevent the spread of the virus.
One of the most important HEALTH PROTOCOLS is the SEPARATION of patients . at the entrance of health centers, and the creation of two differentiated ASSISTANCE ZONES in essential health services to avoid internal infections (between patients and staff). In this way, the care given to patients and professionals in the COVID ZONE will not "contaminate" the clean area of ​​the health center, which will be able to continue assisting the rest of the patients with different ailments and will not have to paralyze ordinary care with the COVID contagion spikes. COVID.
Changing rooms, waiting rooms, isolation units…
For the creation of these TWO SANITARY CIRCUITS in the health care centers, a structural revision of the facilities of each center is necessary. A DOUBLE ASSISTANCE CIRCUIT requires not only separate medical assistance units. Also independent AIR FILTERING CIRCUITS different warehouses, independent personnel entrances and exits, separation of WORK TEAMS in BUBBLES, preventing their members from having contact with other colleagues (changing rooms, toilets, independent lockers). These PROTOCOLS are essential to prevent the spread of the virus in health institutions and elderly care centers.
Many HOSPITALS and HEALTH CENTERS in our country have gradually adapted to this new situation. For them, our HEALTH PREMIUM MODULES are a practical solution, since they can form expandable structures that maintain independent ventilation and air conditioning systems, essential for working in a sealed manner and avoiding contagion.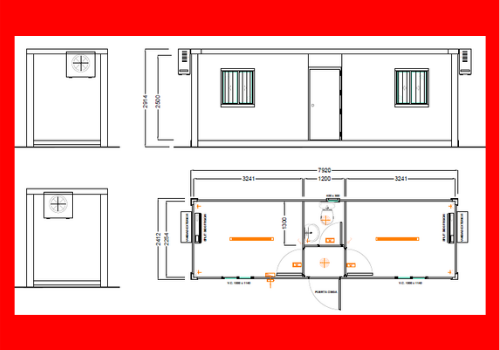 Sampling rooms, double entry circuits...
Our HEALT PREMIUM SANITARY MODULES thus become waiting rooms for patients, dining rooms for staff, individual rooms, warehouses for material and medical equipment, rest areas for health personnel... The adaptability of HEALTH PREMIUM MODULES is its best advantage when creating new spaces through MODULAR ARCHITECTURE. If you need more information about our HEALTH PREMIUM MODULES, or you need to clarify any doubt about a project, assembly or the logistics that we use for its location in the area you need, our SALES DEPARTMENT will be happy to help you. HEALTH comes first and, in CONSTRUCCIONES MODULARES CABISUAR we want to help you cover all your needs.
Policies of Quality, Environment, Safety and Health at work
Management CABISUAR, in the activity they carry out of DESIGN, MANUFACTURE, RENTAL AND SALE OF MODULAR BUILDINGS. SALE AND RENT OF CHEMICAL TOILETS. RENTAL OF ENCLOSURE FENCES. ASSEMBLY AND MAINTENANCE OF MODULAR BUILDINGS AND ECO-ROOMS is aware of the need to perform these services in accordance with the needs of our clients, taking into account applicable legal and/or regulatory requirements, combining our activities with respect for our environment and increasing the safety and health in the work environment.
This commitment is reinforced by the implementation of a Quality Management and Environmental Management System in accordance with the UNE-EN-ISO 9001 and UNE-EN-ISO 45001 standards, based on the following principles:
– Quality, environmental, occupational health and safety management are strategic elements for the operation of the company, being the responsibility of all workers.
There is a strong commitment that our actions and services comply with the established legal requirements, as well as with other requirements to which the organization subscribes.
We are committed to understanding our customers' needs, meeting their requirements, and striving to exceed their expectations. Also to meet the expectations of other stakeholders.
- We are committed to understand Accident detection and prevention mechanismsare established for the immediate application of immediate or corrective actions.
- Our activities and services are aimed at ensuring the prevención de la contaminación and guaranteeing the continuous improvement of our environmental behavior from a life cycle perspective, from commercial management to the management of products at the end of their useful life.
- Continuous improvement of the effectiveness of the Management System and of customer relations is encouraged through management objectives.
- Our actions prevent occupational risks that can cause harm and deterioration to health using continuous improvement in the management and performance of Occupational Health and Safety..
- Duties and responsibilities of all jobs are effectively assigned.
- The training awareness and participation of our employees is promoted, as well as communications with suppliers and subcontractors.
The Management has established the necessary mechanisms so that this Policy is known, understood, and put into practice by all levels of the Organization and to be known by all the Interested Parties.
September 14, 2018 Management CABISUAR.
BUDGET WITHOUT COMMITMENT