Construcciones Modulares Cabisuar S.A.
Warehouses, Changing Rooms, Offices…
In CONSTRUCCIONES MODULARES CABISUAR we design, manufacture, transport and assemble construction booths for all kinds of services: information and offices, warehouse, promotion, toilets and showers for operators…etc. We have a block or kit installation system to install a module wherever it is needed. Prefabricated modules of various sizes and characteristics to cover any need of our customers. Ask us for information or budget!!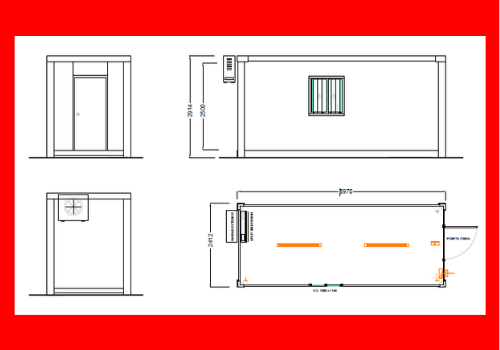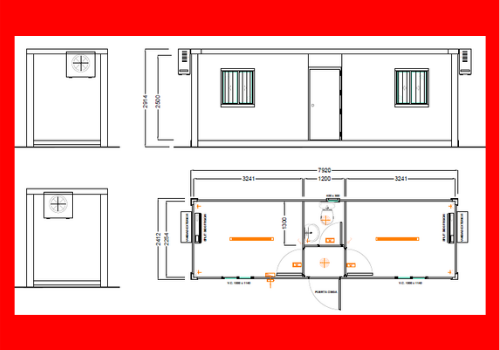 Integral service
LOGISTICS, TRANSPORT AND INSTALLATION.. We have developed our ., which allows us to minimize TRANSPORTATION AND ASSEMBLY COSTSS, in order to facilitate installation at the destination and optimizing the DELIVERY TIMES of our products. To the ADVANTAGES OF MODULAR BUILDING (speed, mobility, solidity, customization, comfort and sustainability), we have added the best QUALITY/PRICE ratio. Total control of the entire INDUSTRIAL PROCESS, allows us to offer the best PRICES ON THE MARKET, minimizing the ENVIRONMENTAL IMPACT and the OCCUPATIONAL RISKS of our collaborators.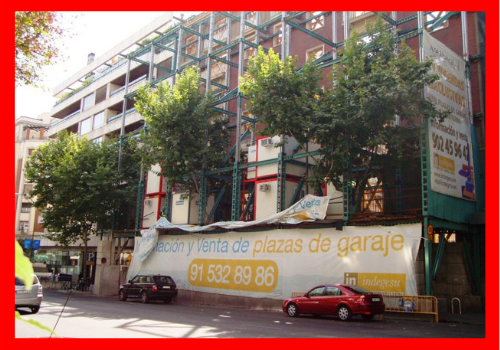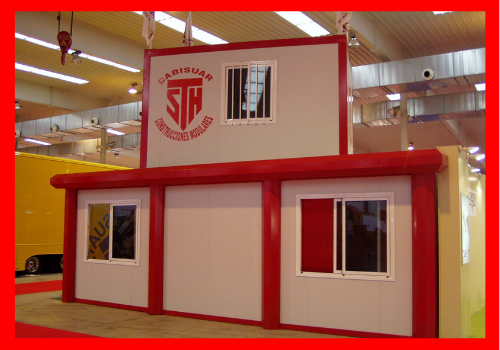 Policies of Quality, Environment, Safety and Health at work
Management CABISUAR, in the activity they carry out of DESIGN, MANUFACTURE, RENTAL AND SALE OF MODULAR BUILDINGS. SALE AND RENT OF CHEMICAL TOILETS. RENTAL OF ENCLOSURE FENCES. ASSEMBLY AND MAINTENANCE OF MODULAR BUILDINGS AND ECO-ROOMS is aware of the need to perform these services in accordance with the needs of our clients, taking into account applicable legal and/or regulatory requirements, combining our activities with respect for our environment and increasing the safety and health in the work environment.
This commitment is reinforced by the implementation of a Quality Management and Environmental Management System in accordance with the UNE-EN-ISO 9001 and UNE-EN-ISO 45001 standards, based on the following principles:
– Quality, environmental, occupational health and safety management are strategic elements for the operation of the company, being the responsibility of all workers.
There is a strong commitment that our actions and services comply with the established legal requirements, as well as with other requirements to which the organization subscribes.
We are committed to understanding our customers' needs, meeting their requirements, and striving to exceed their expectations. Also to meet the expectations of other stakeholders.
- We are committed to understand Accident detection and prevention mechanismsare established for the immediate application of immediate or corrective actions.
- Our activities and services are aimed at ensuring the prevención de la contaminación and guaranteeing the continuous improvement of our environmental behavior from a life cycle perspective, from commercial management to the management of products at the end of their useful life.
- Continuous improvement of the effectiveness of the Management System and of customer relations is encouraged through management objectives.
- Our actions prevent occupational risks that can cause harm and deterioration to health using continuous improvement in the management and performance of Occupational Health and Safety..
- Duties and responsibilities of all jobs are effectively assigned.
- The training awareness and participation of our employees is promoted, as well as communications with suppliers and subcontractors.
The Management has established the necessary mechanisms so that this Policy is known, understood, and put into practice by all levels of the Organization and to be known by all the Interested Parties.
September 14, 2018 Management CABISUAR.
BUDGET WITHOUT COMMITMENT